BUILT IN THE U.S.A.!!
AGXGOLF MAGNUM #7 & #9 FAIRWAY UTILITY WOODS: (21 & 24 DEGREE)
- AVAILABLE IN MEN'S CADET, REGULAR, AND TALL LENGTHS.
- CHOICE OF GRAPHITE SHAFT FLEX; GET ONE or BOTH: FULLY ASSEMBLED AND READY TO PLAY!!
THE SUGGESTED RETAIL PRICE FOR THIS SET IS $159.95... YOUR PRICE IS MUCH BETTER!
One year Manufacturers WARRANTY!!
ONLY $4.50 SHIPPING COST TO ANYWHERE IN THE CONTIGUOUS U.S.A...WE SHIP MOST ORDERS WITHIN 24 HOURS!!
Yes these are BRAND NEW;
DON'T UNDERESTIMATE THE VALUE OF THE UTILITY WOOD!! THEY ARE WONDERFUL FOR LONGER FAIRWAY SHOTS TO THE GREEN!! Also the club of CHOICE for LONGER PAR 3s and LAY UP TEE SHOTS ESPECIALLY ONES THAT MUST CARRY OVER WATER!!
HIGH LOFT Fairway Woods have become known for the distance and loft advantage they give especially on uneven fairway shots and in low to medium rough.
We all know that 2, 3 and 4 irons are difficult to hit let alone hit them well consistently! That's why more Golfers are going with Utility Woods. You will typically get better distance and LESS RISK and still be able to watch the ball land softly! There is none better for shots that have to be executed on a little less than the optimum lie.
Get the advantage a HIGH LOFT FAIRWAY WOODS have for the "less than optimum" lie;or to get the high trajectory required for a soft landing.
And, don't you know, hitting a few more good shots will make your golf game that much more fun!!
Here are some details!!
AGXGOLF: 21 DEGREE 7 WOOD & 24 DEGREE 9 WOOD
Over sized Face with a Medium Profile!!
This gives the club a larger "sweet-spot" For BOTH those OFF THE TEE SHOTS and also helps the club head zip through that thick rough or pick the ball up on those OFF THE FAIRWAY shots!
Low Center of Gravity: Helps get the club head down to the ball on those bare or tight lies -
One of the many features designed into these Fairway Utility Woods is the "smoothed sole" which helps keep the club face square through impact. Combined with the solid 17-4 Stainless Steel construction; you have a very valuable Fairway Wood(s). The low center of gravity makes for high "Tour-Style" golf shots.
These superb clubs are built in our Highland, Michigan facility. We know you will enjoy playing this fine utility wood(s) as much as we enjoyed crafting them!
Available in Men's Sizes: Cadet, Regular, Tall and Extra Tall Lengths and Men's Senior, Flex, Men's Regular Flex and Men's Stiff Flex.
NOT SURE WHAT SIZE?
HERE ARE OUR SIZE RECOMMENDATIONS:
MEN'S CADET: For HEIGHTS of 5' 2'' to 5' 7''
MEN'S REGULAR: For HEIGHTS of 5' 6'' to 6' 2''
MEN'S TALL: For HEIGHTS of 6' 0'' to 6' 6''
MEN'S EXTRA TALL: For HEIGHTS of 6' 4'' to 6' 8''
THIS ITEM IS IN STOCK AND SHIPS WITHIN 24 HOURS!
golf clubs, and more!
American Golf Exchange | 3891 Cullen Rd, Howell, MI 48380 | 810-991-1376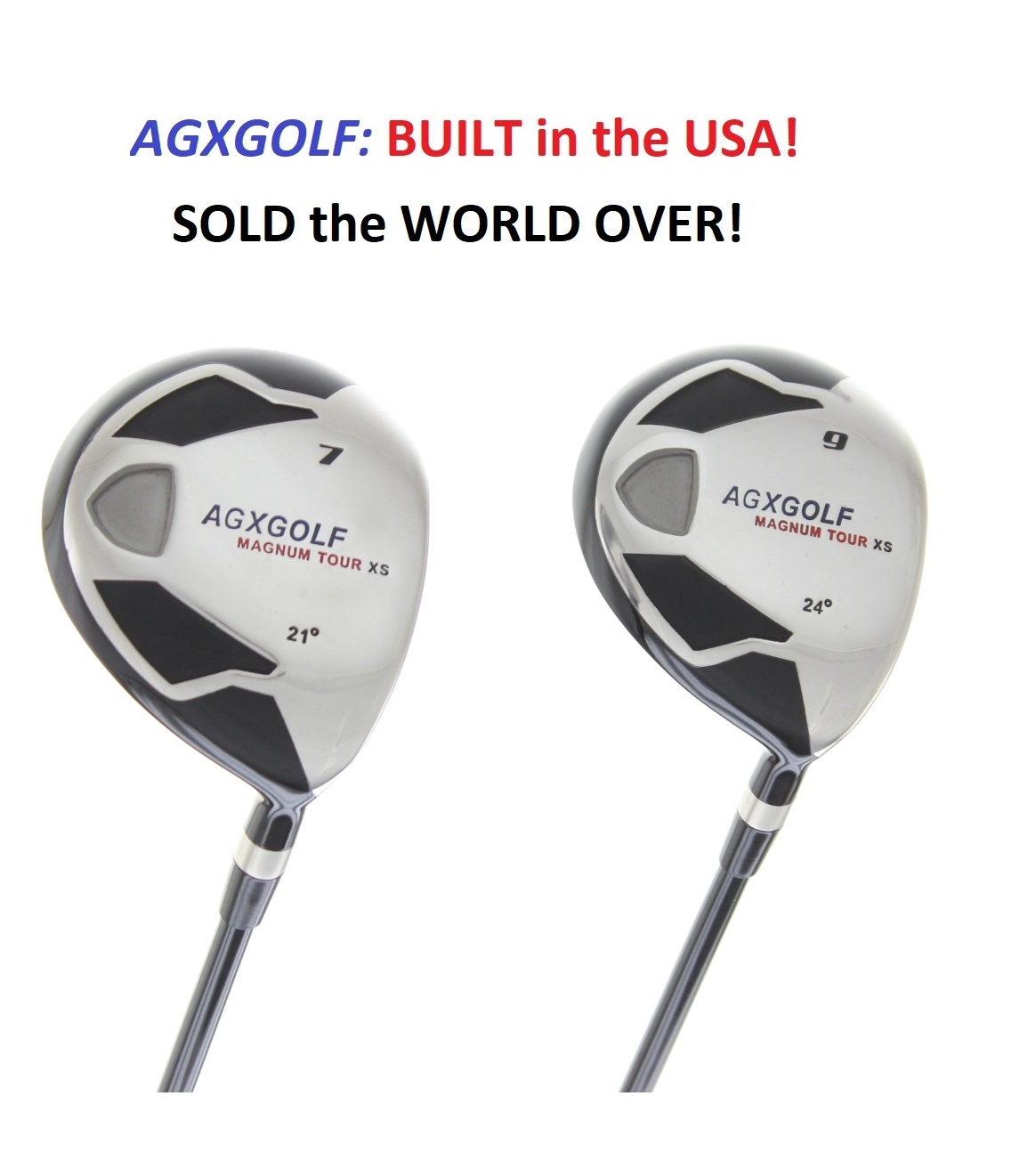 MEN'S UTILITY WOOD #7, #9 or BOTH; AVAILABLE IN CADET, REG & TALL: SENIOR, REG OR STIFF FLEX
Product Code: wds-mrh-magxs-7-9
Reward Points: 18
Availability: In Stock
$34.95

Price in reward points: 800
Related Products
Tags: 7 WOOD, 9 WOOD, REGULAR. STIFF, SENIOR, CADET, TALL, EXTRA, MAGNUM, UTILITY