AGXGOLF MEN'S RIGHT HAND; "MAGNUM XS" FAIRWAY WOODS SET: #3, 5, 7 & 9 FAIRWAY WOODS with YOUR CHOICE OF SENIOR, REGULAR, OR STIFF FLEX GRAPHITE SHAFTS..FREE HEAD COVERS FOR BOTH WOODS: AVAILABLE IN ALL SIZES!
BUILT IN THE U.S.A !!
Yes this is a BRAND NEW FAIRWAY WOODS SET set still in the factory wrap!
BAM!!! THE SAME COMPANY THAT BRINGS YOU THE IMPACT AND BALLISTA GOLF CLUBS HAS DESIGNED THE MAGNUM MENS EDITION WOODS..!
The Manufacturer's Suggested Retail Price for this set is $149.95 Your price is MUCH BETTER!!
This Pair of Fairway Woods includes a One year Manufacturers WARRANTY!!
ONLY $4.50 SHIPPING TO ANYWHERE IN THE USA......WE SHIP MOST ORDERS WITHIN 24 BUSINESS HOURS!
YES WE ACCEPT PAYPAL.!!
This set of FAIRWAY WOODS from AGXGOLF is an ADVANCED full technology package!!
DISTANCE off the TEE and Down the FAIRWAY! That's what you can expect from the "MAGNUM EDITION" Smart Profile STAINLESS STEEL Fairway 3 & 5 Woods (15 & 18 degree) and the 7 & 9 Utility Woods (21 & 24 degree
This club head design technology, plus the SUPERIOR EXTREME MODULUS GRAPHITE SHAFT TECHNOLOGY produces a club with awesome swing speed and distance.
The smart design of these WOODS give you a large enough face to help you feel comfortable off the TEE yet have a slim enough profile to give you confidence when hitting off the Fairway! PLUS: Having the weight distributed to the perimeter of club head increases the moment of inertia. This reduces the torsional rotation of the club head. Simply put: the club head is more likely to come through the ball "square" and that means more straight shots and less hooks and slices!!!
Expertly Crafted with technology for season after season of excellent golf, you will be proud to have these in your golf bag!!
Keep in mind that Titanium/Stainless Steel heads have OUTSTANDING durability.
Set contains (Total of 4 clubs):
3, 5, 7 & 9 WOODS: OVER SIZED For TEE SHOTS But with Lower profile heads to get the ball up out of tight lies and thick rough and a "LONG WAY DOWN THE FAIRWAY"
HIGH MODULUS MEN'S GRAPHITE SHAFTS on ALL WOODS (CHOICE OF SENIOR, REGULAR OR STIFF FLEX)
HEAD COVERS for all Woods.
HERE ARE OUR SIZE RECOMMENDATIONS:
MENS CADET (-1 INCH): For HEIGHTS of 5' 2" to 5' 7"
MENS REGULAR: For HEIGHTS of 5' 6" to 6' 0"
MENS TALL (+1 INCH): For HEIGHTS of 5' 11'' to 6' 4"
MENS X-TALL (+1.5 INCH): For HEIGHTS of 6' 3" to 6' 6"
MENS 2X-TALL (+2.0 INCH): For HEIGHTS of 6' 5" to 6' 9"
AMERICAN GOLF EXCHANGE is headquartered in Michigan and we build these Fairway Woods in our Highland Michigan facility. We know you will enjoy playing these fine golf clubs as much as we enjoy crafting them! We GUARANTEE that you will be SATISFIED!!
GOT QUESTIONS? CALL US AT: 810-991-1376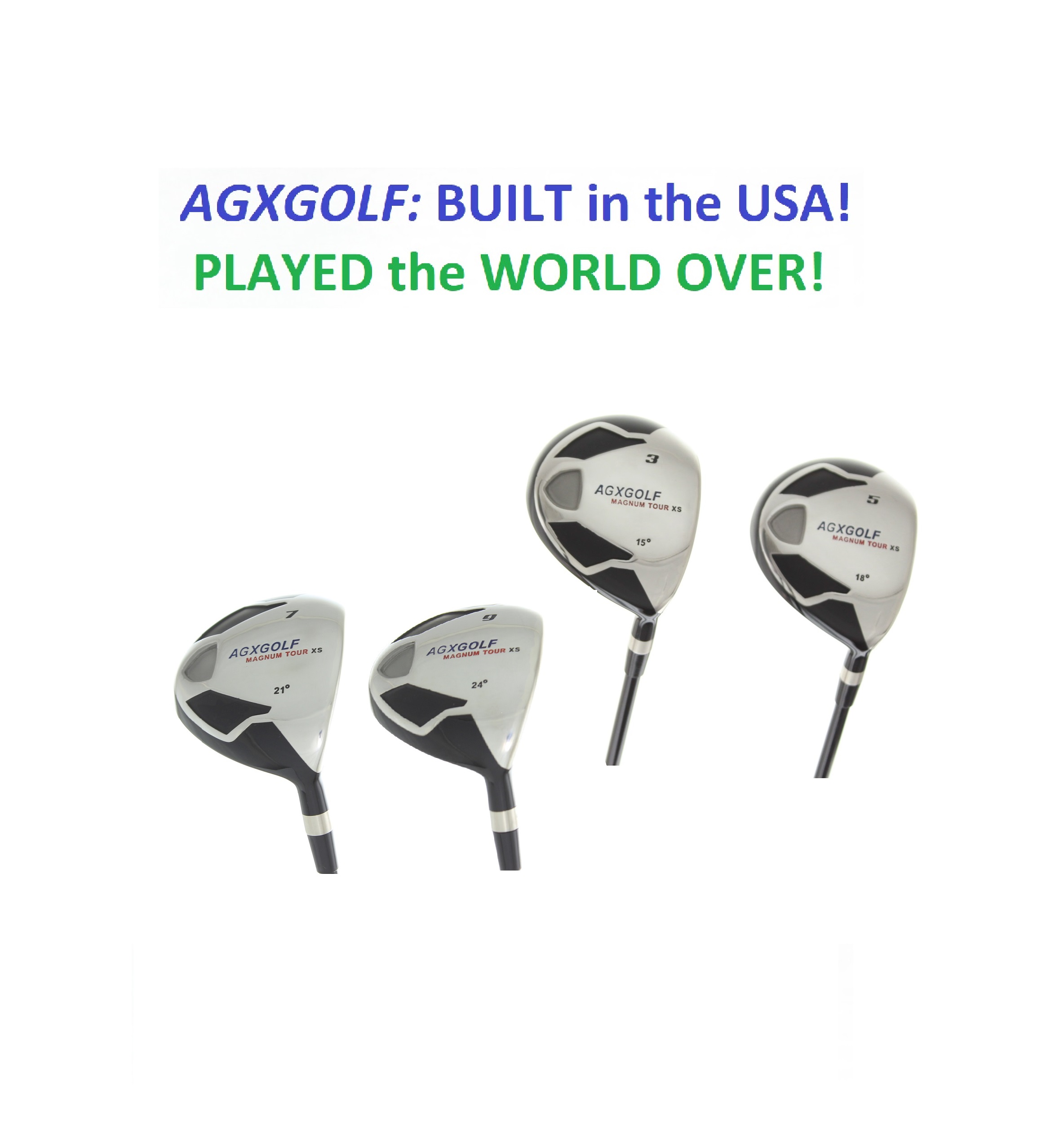 MEN'S RIGHT HAND MAGNUM XS EDITION FAIRWAY WOODS SET: #3, 5, 7 & 9 LEFT or RIGHT HAND
Product Code: wds-magxs-3-5-7-9
Reward Points: 75
Availability: In Stock
$149.95

$119.95

Price in reward points: 2980
Related Products
Tags: CADET, REGULAR, TALL, EXTRA TALL, RIGHT, WOOD, MENS, SENIOR, REGULAR, STIFF, MAGNUM, CUSTOM