SHIPPING INFORMATION
THANK YOU!! The season is on!! So our gang has been on as well! We're working plenty of overtime to keep the shelves full and items ready to send out right away, usually the same day. We believe "Built in the USA" is good for all of us. So we're happy to put in the time and we're pretty sure you will be happy too!
WISHING YOU A SAFE AND HAPPY HOLIDAY SEASON!!
A HOLIDAY SHIPPING MESSAGE:
Orders received by NOON on WEDNESDAY December 19th will get to almost all locations east of the MISSISSIPPI by Christmas Eve.
*For WEST COAST ORDERS: We will need to have your order by Noon on MONDAY December 17th.
Typically, for items sent via USPS/UPS/FEDEX ground, the average delivery time is 1 - 3 BUSINESS DAYS (West Coast orders take one day longer). These estimates are based on the stated times provided by our the Shippers (Of course we cannot guarantee that the shipper will meet their commitment but they do get it done better than 99% of the time).
Please view the shipping time map at the bottom of this page to be more certain of your delivery date.
The SHIPPING DAYS shown on the map below are TRANSIT DAYS. TRANSIT DAYS start the DAY AFTER the shipper picks up your order from our warehouse! ...So for example, if the map shows 2 DAYS for DELIVERY and the Shipper picks up the order on Monday, your package should be delivered on Wednesday. *You cannot count Sunday's as Transit Days and you cannot count Saturday or Sunday as Pick-up Days).
The Good News is that FEDEX and the USPS will deliver on SATURDAY. And Nearly 100% of our orders are sent by those two shippers.
For the 2 DAY TRANSIT TIME example: If you place your order EARLY on Monday there is a very good chance we can get it shipped on Monday and it will arrive on WEDNESDAY. If we get the order LATE on Monday it will ship on TUESDAY and arrive on THURSDAY.
WE WILL DO OUR VERY BEST!! We will Email you with the TRACKING NUMBER and also Post it to your ACCOUNT by late Afternoon on the day your order ships. And of course if we do not think we can get your order to you by the 23rd or 24th WE WILL EMAIL YOU RIGHT AWAY TO LET YOU KNOW.
You are welcome to contact us as well.
We accept Visa, Mastercard, Discover, American Express and PAYPAL on our SECURE network
Welcome to AGXGOLF.COM (America Golf Exchange)
Thank you for visiting! If you have any questions or would like some help placing your order or would just like to place your order over the phone, Please feel free to call us at 810-991-1376
In generaL, Most orders are processed within 24 HOURS! All listed products are in stock!
! We have a flat rate shipping policy for most of our items including most of our golf sets. Shipping for most orders is $4.50 but NEVER over $10.00.
! Our Unique Shipping Policy: The Maximum shipping cost is $10.00 on any order no matter how much you order.
**For items sent via UPS/FEDEX ground the average delivery time is 1- 3 BUSINESS DAYS (West Coast orders take ONE day longer).
! We will send you an Email notification, including tracking number, usually on the day your order is shipped.
! Michigan (or nearby) orders often arrive the next day!!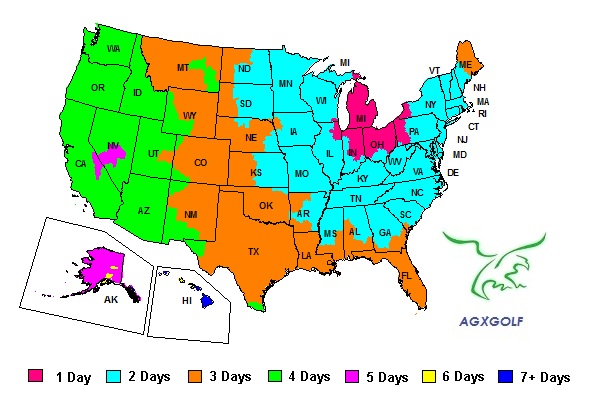 Our Price / Quality Guarantee
If you find the same product on the web for a better price within 30 days of your purchase, we will refund the difference. Just tell us the address of the site where you found the better price and if it's true we'll send you the bucks. Thanks to the many folks who have shopped at our store! So many repeat customers tells us we've done something right, but if you have a problem let us know right away!
If not satisfied with purchase return the UNUSED Item(s) in the original packaging within 30 days of date of purchase for full refund of the PURCHASE PRICE less our original shipping cost. Customer is responsible for return shipping cost and a small restocking fee equal to 3% of the purchase price.. Please package items well. Upon receipt product will be inspected; Items must be received back in their original condition. We can not accept used or damaged items. Please contact us for instructions before making returns. THANK YOU from American Golf Exchange
Note: We cannot offer our Price Guarantee on used golf balls.

PRIVACY POLICY - We Absolutely DO NOT give or sell our customer information to mailing lists.
We Love to play golf! So we decided to bring YOU the EASE of shopping right at home and we've been doing so very successfully since 1998. Here you find customized ordering and excellent VALUE! Take your time and browse.
---
There are no products to list in this category.